7 Things Jacksonville Landlords Should Always Look for in a Rental Property Inspection
Rental property inspections can happen at any time and for any number of reasons. Perhaps you're preparing the home for new tenants or you're inspecting after a tenant has moved out. Maybe you're conducting a mid-lease inspection to ensure everything looks good and your tenant is following the terms of the lease agreement.
Sometimes, inspections are less formal. You're driving by the property because you happen to be in the neighborhood. Or, a tenant has requested some minor repairs and you're heading over there to meet a vendor or assess the situation.
Take advantage of every opportunity you have to enter your property – whether it's a minor repair or a move-out. Inspections help you protect the condition and the value of your asset. It also allows you to provide a high-quality, well-maintained home to great tenants.
A couple of things to know before you inspect:
Always provide proper notice when you're inspecting a home that's occupied. Let your tenants know 24 or 48 hours ahead of time that you'll be inspecting.
Make sure your lease agreement reflects that you have a right to enter the home and what the notice period will be for your tenants.
Always bring a checklist with you so you document everything that you see and make lists of work that may be needed.
If you're working with a Jacksonville property management company, you can expect your management partners to take care of inspections and share a detailed inspection report with you. If you're managing your own home, you might be wondering what exactly you're meant to look for when you're inspecting the property.
We've put together a list of 7 things that you always want to look for during a rental property inspection of any kind.
1. Potential Safety Issues and Hazards
Perhaps the first and most important thing on your inspection checklist is safety. You should not be renting out a home that isn't safe, habitable, and functioning. If anything in the property could potentially harm a tenant or a tenant's guest, take care of it without delay.
Providing a safe and habitable home to your tenants is your most basic responsibility as a landlord. Here's what you should be looking for during your safety inspection:
Check smoke detectors and furnace filters. Are they working? Do any batteries or filters need to be changed? Is there anything to indicate that a service call from a licensed vendor may be necessary?
Look at the exterior lighting, especially the lights on the front porch or around any walkways, driveways, garages, or sidewalks leading from street to property.
Look for any trip and fall hazards. Are there carpets coming up at the corners? Are there holes in the yard or uneven pavement outside?
Make sure all windows and doors can open, close, and lock reliably.
Check window coverings and screens.
2. Maintenance Issues Needing Attention
Sometimes, you'll be inspecting because a repair request has been made. In that case, you'll start with whatever the tenant reported, whether it's an appliance, a cooling issue, or a broken door. Once the initial problem is resolved, take the time to check on any other maintenance problems that may be lurking on the property. As you're working your way through the property, pay special attention to things like:
Evidence of water intrusion. Look for leaks and drips in sinks and puddles under sinks and behind toilets and tubs. Plumbing problems tend to escalate very quickly, and if you can catch them early, you'll spend less money and encounter fewer frustrations in repairing them.
Check the HVAC system and make sure the filters are being changed on schedule. Your air conditioning will be well-used in Jacksonville, especially in the summer months. You want to know the system is in good shape.
Check and test the electrical outlets.
Look at the condition of your floors and walls. They should be clean, free of damage, and in good condition.
If there are any indications that work needs to be done, make a note of it and get the repair scheduled as soon as possible. This is the main purpose of any inspection: you're making sure that everything is in good condition so you can effectively protect the value of your investment.
Routine inspections allow these potential problems to be noticed and addressed immediately. It saves you money and avoids the hassle of expensive emergency repairs.
3. Opportunities for Upgrades and Improvements
Another opportunity you have during every inspection you conduct is to look for potential improvements that can be made to your property. This will impact your ROI and your rental value. It's another great reason to inspect your property whenever you can; you might notice that the floors need to be replaced or the appliances are aging. Maybe your tenants will request better lighting in the kitchen. Consider that request. It will help with retaining those tenants and also deliver more value to your investment.
When you're inspecting regularly, you can plan for these improvements financially and logistically. Even if you don't plan to make the upgrades right away, you can make a note to replace appliances during the next turnover or begin budgeting for new floors that you may want to install in a year or two.
4. Landscaping and Property Exterior
Always look at your landscaping and the property exterior when you're conducting inspections. This can be done even during an informal drive-by inspection of your rental home. You want the grass to be in good shape if you have a yard. You don't want to see a lot of debris or a collection of junk cars leaking oil all over the driveway. Make sure the blinds aren't hanging off the windows.
When you're doing a full inspection, check the roof and the condition of your patio or deck. If your rental property has a pool, you'll want to make sure it's clean and maintained and remains adequately fenced.
Landscaping is an important part of creating curb appeal. You want to keep the exterior of the house looking great, whether your home is occupied or vacant.
5. Lease Violations and Potential Issues with Jacksonville Tenants
When you're inspecting during a tenancy, you'll want to ensure your tenants are following the terms of their lease agreement. If you have not approved any pets for that particular resident, you should not see cat bowls or dog leashes. If your lease prohibits painting the walls or changing the appearance of the property, those things will be instantly noticeable and will need to be addressed.
Look for signs that additional people have been living at the property, even if they have not been approved or screened.
You don't want to show up for an inspection looking to catch your tenants in the act of violating the lease. But, you do want to make sure they're living up to their responsibilities and meeting your expectations.
Inspections with tenants present are a good opportunity to touch base with them as well. Have a conversation about how things are going. Talk to them about your concerns if you have any. Part of maintaining a positive and professional tenant relationship is a willingness to listen and communicate.
6. Storm Preparedness
The Atlantic hurricane season begins in June and lasts through the end of November. You never want to worry too much about the potential damage hurricanes and tropical storms can do, but you must be prepared for torrential rains, strong winds, and possible flooding.
If you're inspecting during hurricane season, make sure the windows are strong and branches have been trimmed away from the roof and any windows. Check for the security of your fencing. Make sure tenants understand the emergency procedures if a storm is expected.
7. Damage During Move-Out Inspections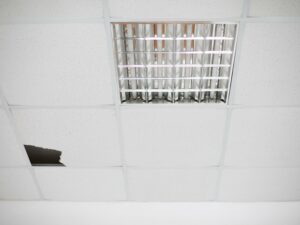 You should look for property damage every time you inspect the property.
The most important inspection for this particular checklist item, however, is the move-out inspection. You'll want to distinguish between normal wear and tear, which is expected in a Jacksonville rental property, and tenant damage, which is ultimately your resident's responsibility.
Document the damage that you do find. You'll need that if you want to make a claim against the security deposit. Take photos and notes and make sure you can clearly compare the move-out condition to the way the property looked when the tenants moved in.
Normal wear and tear can be defined as general deterioration that happens any time a home is occupied. Those small nail holes in the walls and scuff marks from the furniture are normal. That's not damage. When you have damage, you're likely looking at large holes in the walls, scratches or stains on the floors, and appliances or doors or windows that were broken due to neglect or abuse.
These are seven things that must always be present when you're inspecting your Jacksonville rental property. If you'd like to talk further about how to make the most of every inspection, please contact us at Red Rooster Property Management. We have a lot of experience inspecting and protecting investment properties in Jacksonville, St. Johns, and Orange Park.